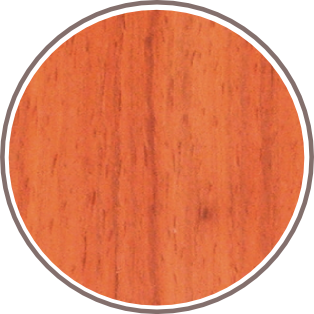 Padauk Wood

Origin Name: African
---



Characteristics of Padauk Wood
---
Colour/Appearance:
Heartwood colour can vary, ranging from a pale pinkish orange to a deep brownish red. Most pieces are reddish orange when freshly cut, darkening substantially over time to a reddish/purplish brown to nearly black.
Grain/Texture:
Grain is usually straight, but can sometimes be interlocked.
Rot Resistance:
African Paduak has excellent decay resistance, and is rated as durable to very durable. It is also reported to be resistant to termites and other insects.
Workability:
Overall African Padauk is easy to work; tear out may also occur during planning on quarter sawn or interlocked grain. Padauk turns, glues, and finishes well.
Odor:
African Padauk has a faint, pleasing scent while being worked.
Sustainability:
This wood species is not listed in the CITES Appendices or on the IUCN Red List of Threatened Species.
Common Uses:
Veneer, Flooring, Turned Objects, Musical Instruments, Furniture, Tool Handles, and Other Small Specialty Wood Objects.
---
Our Customers Are From Various Industries
---

Architects & Interior Designers

Sports Goods Manufacturers

Real Estate Builders & Developers


Wood Furniture Manufacturers