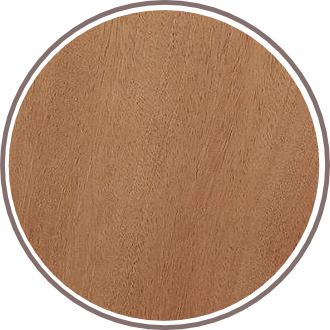 Sapele Wood

Origin Name: African
---



Characteristics Of Sapele Wood
Colour/Appearance:
Heartwood is a medium to dark reddish brown or purplish brown. Colour tends to darken with age.
Grain/Texture:
Grain is interlocked, and sometimes wavy. Fine uniform texture and good natural luster.
Rot Resistance:
Heartwood ranges from moderately durable to very durable in regard to decay resistance. Sapele is susceptible to insect attack. Hence heat/chemical treatment is advisable.
Workability:
Sapele can be troublesome to work in some machining operations, (i.e., planning, routing, etc.), resulting in tear out due to its interlocked grain. It will also react when put into direct contact with iron, becoming discoloured and stained. Sapele has a slight blunting effect on cutters, but it turns, glues, and finishes well.
Odor:
African Sapele has a distinct, cedar-like scent while being worked.
Sustainability:
This wood species is not listed in the CITES Appendices, but is on the IUCN Red List.
Our customers are from various industries
We work directly with you to identify the right wood species for your needs!.
Architects & Interior Designers

Real Estate Builders & Developers

Wood Furniture Manufacturers


Sports Goods Manufacturers




Corporate Office & Works
Survey No. 90, Plot No. 112-121, NH-8 , Padana Opp. Aggarwal Impex, Kandla – 370201 Gujarat | India.
Showroom
Plot -5 Swarn Park, Rohtak Main Road Mundka, Near Rajdhani Metro Park, New Delhi – 110041| India
Sales office
Khasra No 72/12, Opposite Metro Pillar No 485, Near Rajdhani Park Metro Station, Swarn Park, Main Rohtak Road,
New Delhi - 110041 | India
Corporate Office & Works
Faith Lumber Private Limited
Survey No. 90, Plot No. 112-121,
NH-8 , Padana, Opp. Aggarwal Impex,
Kandla – 370201
Gujarat | India
Sales Office
Faith Lumber Private Limited
Khasra No 72/12, Opposite Metro Pillar No 485, Near Rajdhani Park Metro Station, Swarn Park, Main Rohtak Road,
New Delhi - 110041 | India