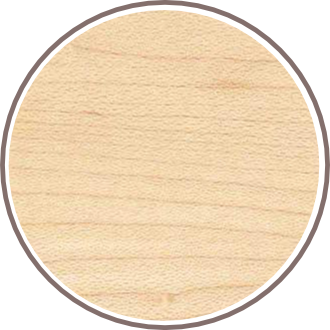 *Also available under FSC® certification
Hard Maple Wood

Origin Name: American
---



Characteristics of Hard Maple Wood
Colour/Appearance:
Unlike most other hardwoods, the sapwood of hard maple lumber is most commonly used rather than its heartwood. Sapwood colour ranges from nearly white, to an off-white cream colour, sometimes with reddish or golden hue. The heartwood tends to be a darker reddish brown.
Grain/Texture:
Grain is generally straight, but may be wavy. Has a fine, even texture.
Rot Resistance:
Rated as non-durable to perishable, and susceptible to insect attack.
Workability:
Fairly easy to work with both hand and machine tools. Hard maple has a tendency to burn when being machined with high-speed cutters such as in a router. Turns, glues, and finishes well, though blotches can occur when staining, and a pre-conditioner, gel stain, or toner may be necessary to get an even colour.
Odor:
No characteristic odor.
Sustainability:
This wood species is not listed in the CITES Appendices or on the IUCN Red List of Threatened Species.
Our customers are from various industries
We work directly with you to identify the right wood species for your needs!.
Architects & Interior Designers

Real Estate Builders & Developers

Wood Furniture Manufacturers


Sports Goods Manufacturers




Corporate Office & Works
Survey No. 90, Plot No. 112-121, NH-8 , Padana Opp. Aggarwal Impex, Kandla – 370240 Gujarat | India.
Sales office
Khasra No 72/12, Opposite Metro Pillar No 485, Near Rajdhani Park Metro Station, Swarn Park, Main Rohtak Road,
New Delhi - 110041 | India
Corporate Office & Works
Faith Lumber Private Limited, Survey No. 90, Plot No. 112-121, NH-8 , Padana, Opp. Aggarwal Impex, Kandla – 370201 Gujarat | India.
Sales Office
Khasra No 72/12, Opposite Metro Pillar No 485, Near Rajdhani Park Metro Station, Swarn Park, Main Rohtak Road, New Delhi - 110041 | India