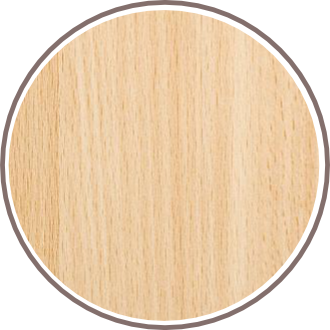 *Also available under FSC® certification
 Beech Wood

Origin Name: European
---



Characteristics of Beech Wood
Colour/Appearance:
Beech wood is typically a pale cream colour, sometimes with a pink or brown hue. Veneer tends to be slightly dark coloured, as slicing the veneer usually requires the wood to be prepared with steam, which gives the wood a more golden tone. Flat sawn surfaces tend to be very plain, while quarter sawn surfaces exhibit a silvery fleck pattern.
Grain/Texture:
Grain is straight, with a fine to medium uniform texture.
Workability:
Overall good workability; it machines well, and glues, finishes, and turns well. Beech also responds superbly to steam-bending. It does, however, have a large amount of movement in service, so movement and wood stability must be taken into account.
Odor:
No characteristic odor.
Sustainability:
This wood species is not listed in the CITES Appendices or on the IUCN Red List of Threatened Species. Common Uses: Lumber, veneer, flooring, boatbuilding, furniture, cabinetry, musical instruments (piano pin blocks), plywood, and turned objects.
Our customers are from various industries
We work directly with you to identify the right wood species for your needs!.
Architects & Interior Designers

Real Estate Builders & Developers

Wood Furniture Manufacturers


Sports Goods Manufacturers




Corporate Office & Works
Survey No. 90, Plot No. 112-121, NH-8 , Padana Opp. Aggarwal Impex, Kandla – 370240 Gujarat | India.
Sales office
Khasra No 72/12, Opposite Metro Pillar No 485, Near Rajdhani Park Metro Station, Swarn Park, Main Rohtak Road,
New Delhi - 110041 | India
Corporate Office & Works
Faith Lumber Private Limited, Survey No. 90, Plot No. 112-121, NH-8 , Padana, Opp. Aggarwal Impex, Kandla – 370201 Gujarat | India.
Sales Office
Khasra No 72/12, Opposite Metro Pillar No 485, Near Rajdhani Park Metro Station, Swarn Park, Main Rohtak Road, New Delhi - 110041 | India