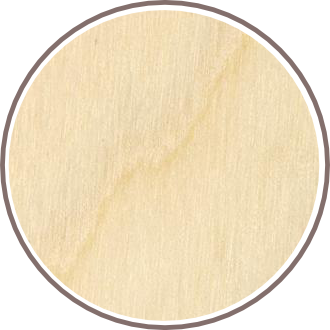 Birch Wood

Origin Name: European
---



Characteristics of Birch Wood
---
Colour/Appearance:
Heartwood tends to be a light reddish brown, with nearly white sapwood. Occasionally figured pieces are available with a wide, shallow curl similar to the curl found in cherry wood.
Grain/Texture:
Grain is generally straight or slightly wavy, with a fine, even texture.
Rot Resistance:
Birch is perishable, and will readily rot and decay if exposed to the elements. The wood is also susceptible to insect attack. Proper heat & chemical treatment is advisable.
Workability:
Generally easy to work with hand and machine tools, though boards with wild grain can cause grain tearout during machining operations. Turns, glues, and finishes well.
Odor:
No characteristic odor.
Sustainability:
This wood species is not listed in the CITES Appendices or on the IUCN Red List of Threatened Species.
Common Uses:
Plywood, boxes, crates, turned objects, interior trim, and other small specialty wood items.
---
Our Customers Are From Various Industries
---

Architects & Interior Designers

Sports Goods Manufacturers

Real Estate Builders & Developers


Wood Furniture Manufacturers



Faith Lumber Pvt Ltd
Genuine Source for All Wood Requirements