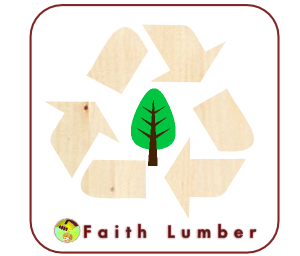 Wood Preservation
All measures that are taken to ensure a long life of wood fall under the definition Wood Preservation.
Apart from structural wood preservation measures, there are a number of different (chemical) preservatives and processes (also known as timber treatment, lumber treatment or pressure treatment) that can extend the life of wood, timber, wood structures or engineered wood. These generally increase the durability and resistance from being destroyed by insects or fungus.
Some of the common & effective preservation techniques are:
Kiln Drying

Heat treatment

Chemical treatment

Thermal treatment

Vac-Vac treatment
Kiln Drying:
It basically reduces the moisture content of the timber which is important to increase the age of the lumber products.
Wood drying may be described as the art of ensuring that gross dimensional changes through shrinkage are confined to the drying process. Ideally, wood is dried to that equilibrium moisture content as will later (in service) be attained by the wood. Thus, further dimensional change will be kept to a minimum.
It is probably impossible to completely eliminate dimensional change in wood, but elimination of change in size may be approximated by chemical modification. Drying timber is one method of adding value to sawn products from the primary wood processing industries. Drying, if carried out promptly after felling of trees, also protects timber against primary decay, fungal stain and attack by certain kinds of insects. Organisms, which cause decay and stain, generally cannot thrive in timber with moisture content below 20%. Several, though not all, insect pests can live only in green timber.
Other significant advantage is:
Dried timber is lighter, and the transportation and handling costs are reduced.

Dried timber is stronger than green timber in most strength properties.

Timbers for impregnation with preservatives have to be properly dried if proper penetration is to be accomplished, particularly in the case of oil-type preservatives.

In the field of chemical modification of wood and wood products, the material should be dried to certain moisture content for the appropriate reactions to occur.

Dry wood generally works, machines, finishes and glues better than green timber.Paints and finishes last longer on dry timber.

The electrical and thermal insulation properties of wood are improved by drying.
Heat Treatment:
There is ongoing research as to whether heat treatments can be used to make timber more durable. By heating timber to a certain temperature, it may be possible to make the wood-fibre less appetising to insects. Although unlikely to be as effective as chemical preservatives, anecdotal evidence suggests some consumers would prefer chemical-free timber preservation methods.
There are 3 similar European heat treatments: Retiwood, developed in France, Thermowood, developed in Finland by VTT, and Platowood developed in the Netherlands. These processes autoclave the treated wood, subjecting it to pressure and heat, along with nitrogen or water vapour to control drying in a staged treatment process ranging from 24 to 48 hours at temperatures of 180 to 230 °C depending on timber species. These processes increase the durability, dimensional stability and hardness of the treated wood by at least one class; however, the treated wood is darkened in colour, and there are changes in certain mechanical characteristics. The treated wood requires drilling for nailing to avoid splitting the wood. Certain of these processes cause less of an impact than others in their mechanical effects upon the treated wood. Wood treated with this process is often used for cladding or siding, flooring, furniture and windows.
Chemical Treatment/Pressure Treated:
A range of different chemical treatments has been developed to enhance the durability and service life of timber. The most common chemical used to treat lumber is chromated copper arsenate, or CCA. Such chemical treatments impregnate the wood cells, making them resistant to decay, insects, weather or fire.
While chemical treatments add to the cost of the timber, they can significantly increase its lifetime. When used in environments in which there are known biological hazards, it is cost-effective to specify treated timber and expect a longer service life or a lower cost maintenance schedule. Remember though that treatment of timber is not a fail safe solution that will prevent any biological degradation. Rather it inhibits the degradation when the timber is used in a normal environment.
The preservative treatment of timber or timber products involves the introduction of stable chemicals into the cellular structure of timber that protect the timber from hazards such as wood destroying organisms like fungi and insects. Preservative treatments may also include the introduction of chemicals that inhibit fire.
Preservative treatment of timber is primarily concerned with protection of the sapwood. It is not possible to effectively treat heartwood in most species, as heartwood cells contain resins and other extractives which prevent the uptake of preservative solutions. The wide sapwood bands of the major plantation softwoods (radiata, slash, hoop pine) can be effectively treated with preservatives.
Thermal Treatment:
Thermo-treatment significantly improves the various characteristics of wood and protects wood by using heat and steam without any chemical additives. The molecular changes in wood composition have a result of dimensional stabilization, protection against rot and wither, and as a result, expand usage opportunities.
Thermo-Treated Wood is now widely used for all kinds of interior and outdoor projects such as exterior siding, decks, furniture production (especially for gardens), musical instruments, flooring, parquet, windows, doors, fences and highway acoustical barriers. Other products in which thermo-treated wood is ideal are those applications in high moisture environments such as boardwalks, swimming pool areas, trim of yachts, landscape design, manufacturing of bathtubs, wash-bowls, floors and facing tile of bathrooms, and many other applications.
Vac-Vac treatment:
Vac Vac involves the application of organic preservatives to timber. 
The name is derived from the mechanical process involved. A vacuum is initially used to extract air from the timber. Once the air has been extracted the preservative is introduced and absorbed into the surface.
Following this a second vacuum is employed to remove the excess preservative from the surface. Hence the name is Vac-Vac.
This method of preservation is suited to applications where the wood is continually exposed to moisture, for example the portion of a post within the ground.
Please be aware that whilst the timber is treated under pressure during the process it is not dried. This leads to the timber being supplied very wet. When treating wood the preservative will only penetrate the sapwood, it will not penetrate the impermeable heartwood.
Corporate Office & Works
Survey No. 90, Plot No. 112-121, NH-8 , Padana Opp. Aggarwal Impex, Kandla – 370240 Gujarat | India.
Sales office
Khasra No 72/12, Opposite Metro Pillar No 485, Near Rajdhani Park Metro Station, Swarn Park, Main Rohtak Road,
New Delhi - 110041 | India
Corporate Office & Works
Faith Lumber Private Limited, Survey No. 90, Plot No. 112-121, NH-8 , Padana, Opp. Aggarwal Impex, Kandla – 370201 Gujarat | India.
Sales Office
Khasra No 72/12, Opposite Metro Pillar No 485, Near Rajdhani Park Metro Station, Swarn Park, Main Rohtak Road, New Delhi - 110041 | India